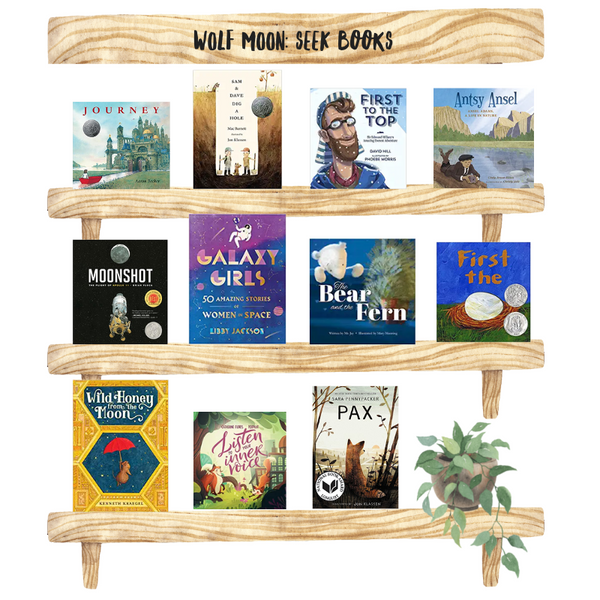 This ebook is an invitation for those who want to go deeper as a family in their exploration and connection to the emotional aspects of themselves using the 13 lunar cycles (2023 has a blue moon!) of the year as a guide.  By doing this work within the context of the lunar cycles, Mother Nature can serve as a teacher and inspiration on your journey.
Each lunar month, we will focus on a single emotional word and explore how we connect to ourselves and others through that emotion. It contains 50+ pages of mindfulness and nature connection inspired by the lunar cycles. For each lunar month this offering contains:

Mindfulness and nature connection prompts, one for each of the major lunar phases (New Moon, First Quarter Moon, Full Moon, Third Quarter Moon)
Journal page connected to each prompt intended to help explore your mindfulness goals, progress and inspiration.
Book suggestions anchored to each emotive component for the year.
One emotional tracker to be filled out, one entry per day for the entire lunar year.

The moon names used as a guide in this digital offering are the colloquial names that are generally accepted in North America. There is a tradition of naming the moons across the globe, according to the seasonal happenings in a particular biome.

12 Lunar Cycles + Blue Moon

Wolf Moon
Snow Moon
Worm Moon
Pink Moon
Flower Moon
Strawberry Moon
Buck Moon
Sturgeon Moon
Harvest Moon
Hunter's Moon
Beaver Moon
Peace Moon
Blue  Moon