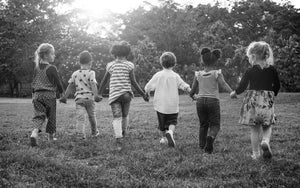 Get News
Slowing down and connecting with the rhythms of nature is an easier path to walk when you are supported by an amazing community of families who you resonate with. There are different areas of the Wilder Child ecosystem depending on where you are in your journey. The thing that connects all those paths is the Wilder Child Newsletter. I will never spam you, and you'll only get an email filled with updates & goodies once a lunar month on every full moon. Sign up below and get your free Nature Play printable.
Educate
Wildschooling is a gathering place for nature-connected home educators and others who are passionate about supporting a nature-based, active & joyful childhood. Join us as we explore nature's role in providing a nourishing, dynamic and creative education that honors the whole child.
Wildschooling is now supported by an amazing team and represented by over 40,000 inspiring, diverse families across the world – each making the movement what it now is.
Learn & Grow
The Kids Moon Club is a year-long journey and community tied not to keeping up, but to looking up. This experience was designed with the help of nature, inspiring families to connect, celebrate, play and walk together through all the full moons of the year. Get on the waitlist for the 2021 Kids Moon Club today!