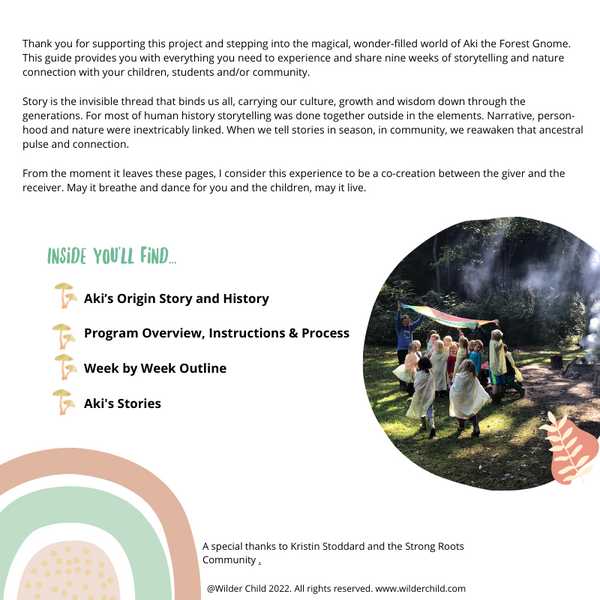 Introduce your children or community to the wonder-filled world of Aki the Forest Gnome. This digital, nine-week storytelling, nature connection and wisdom teaching program has everything you need to create this experience, including:
An overview and history of Aki the Gnome
Program overview, instructions, material list and nine-week outline
Nine ready-to-print and use stories told in the voice of Aki
The program is based on the story of Aki the Forest Gnome woven around 7 wisdom teachings (weeks 1-7) with week 8 being a reflection week and 9 being Aki's birthday celebration week. The story is written around the spring season, but can be adapted to the season you are experiencing and your local biome.  This program is best suited for children 3-7.
Each week you are provided with:
A weekly focus
A story to read from Aki
Storyteller instructions
A wisdom teaching
A mantra and a bead color that is eventually used to make a necklace for the children to remember their experience with Aki.
More than just static stories, Aki the Forest Gnome is a time-tested relationship-building journey that will bond your children to the land, themselves and the world around them. This program can be used by forest school teachers, individual parents looking to deepen their children's relationship with their own land or parents in a city environment at a local park.
Aki the gnome statue, beads and necklaces are not included. This is a digital offering and therefore, no returns or cancellations are offered. All purchases are final.